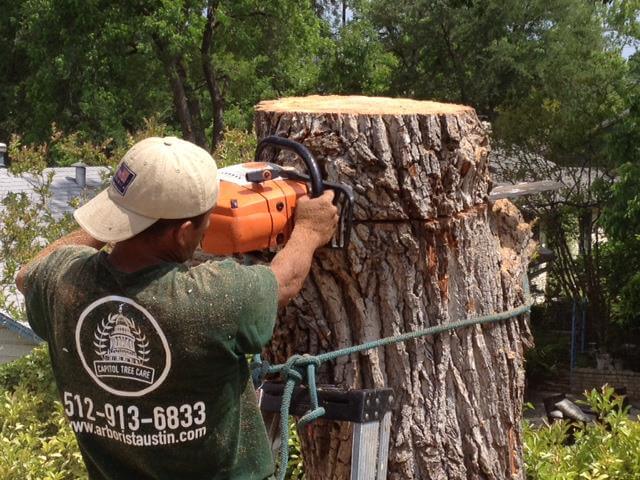 At Capitol Tree Care we provide unparalleled tree cutting services that not only protect nearby structures but also leave your tree healthier and more appealing.
With a decade of professional tree management and maintenance experience in the greater Austin area, we handle jobs regardless of the size. From tree cutting to complete tree removal and stump grinding our certified Arborist specialists have the required knowledge and skills to ensure your trees are healthier, safer, and more appealing. We take care not only of your tree needs, but we will make sure your surrounding property is left clean and undisturbed after performing all tree cutting and maintenance services.
Our commitment to our service is reflected in the demands we make of each of our tree professionals. We are certified by the International Society of Arboriculture (ISA) which requires our Arborists have three or more years of full-time, eligible, practical work in arboriculture and/or a degree in the field of arboriculture, horticulture, landscape architecture, or forestry from a regionally accredited educational institution.
Due to the complexity that tree management can pose based on different situations, landscapes, and locations, we offer an "Arborist Consultation/Assessment". A consultation includes everything from an Arborist's assessment of tree health and safety to landscaping and property recommendations before purchasing a new property. We also offer free estimates for services ranging from tree cutting to tree removal.
At Capitol Tree Care know we take pride in providing all of our customers with reliable, prompt, quality tree management solutions at an affordable price.
Call today for an Arborist Consultation or free estimate.