Dripping Springs, TX
Arborist & Tree Services
We provide our full suite of tree beautification services in Dripping Springs, TX and surrounding areas. Through our science based approach, we offer the finest tree services in the area.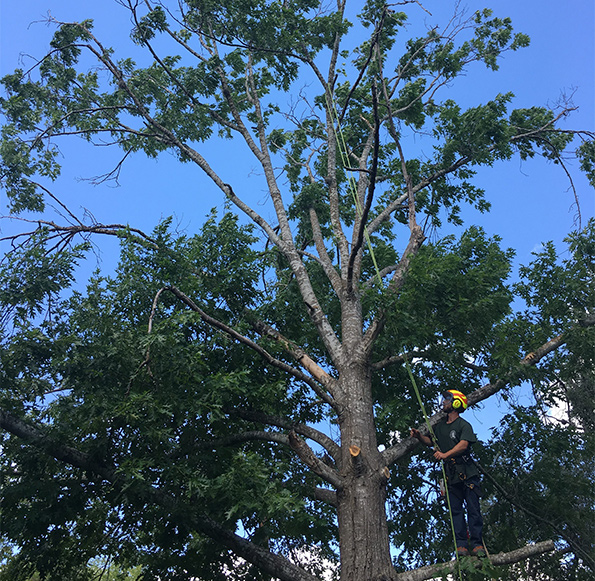 Liberty Hill Tree Services
Residents and business owners alike looking for expert tree services in Liberty Hill, TX will be happy with the services offered by Capitol Tree Care. Led by certified arborists, we offer a complete suite of comprehensive tree services. Whether you are trying to remedy diseased trees, protect existing trees, or plant new trees that add beauty to the aesthetic of your property, our tree experts have a deep understanding of the unique Texas ecosystem and know how the environment here and the trees can affect each other.
Our current customers have great things to say about our attention to detail and excellent customer service. We offer consultations on services, and our rates are competitive. Our experienced and expert team works hard to provide our customers with the best in professional tree services in Leander, TX. Lush, healthy trees make our community more attractive and enjoyable. If you would like to add curb appeal to your property, Capitol Tree Care can provide the expertise you need to maintain your trees or plant new ones. We understand the Texas environment and ecosystems and can assist you in establishing or maintaining healthy, shady trees on your property.
Tree trimming is a specialized art form that must be carried out in a sequential manner depending on the needs of the tree. Also, the necessary equipment used to trim trees varies depending on the type of tree being trimmed. When working with deciduous trees, we often use hand tools like loppers and saws. Coniferous trees require much heavier machinery than deciduous trees, while a chainsaw is commonly used to cut down trees. Evergreen trees require special equipment that is designed specifically for cutting their thick stalks. If you want professional tree trimmers who understand the different types of trees and have the proper equipment for the job, then you need Capitol Tree Care. Our expert tree trimming team, led by James Burtchell, International Society of Arboriculture (ISA) Certified Arborist and Degreed Forester, knows what equipment is best for the types of trees on your property.
We offer a full range of all-inclusive and professional tree services. We will enhance the well-being of your trees by helping to protect them from disease, assist in shielding them from damage, and optimize their beauty and rich growth. We aim for thriving trees that are strong and live up to the exquisite beauty Texas is known for. We understand that the Texas environment and the trees that populate its land must coexist. When both are properly cared for, the ideal landscape is achieved.
We can also help you plan, plant, and manage new growth. One big part of maintaining new and mature tree growth is pruning. When carried out properly, pruning can promote and control development, preserve tree vitality, maintain branch growth, and eliminate weak limbs. This avoids dead growth and minimizes potential damage from storms, ultimately, prolonging the tree's life. Another benefit achieved by pruning is meticulous stem removal from branches that improves moisture, airflow, and light absorption beneath an otherwise concentrated canopy. This technique not only relieves weight from ice and snow in the winter but allows more sunlight to penetrate the ground below, promoting grass and other ground cover growth. Only expert tree pruners like those at Capitol Tree Care can carry out this procedure correctly, providing optimal benefits for the environment.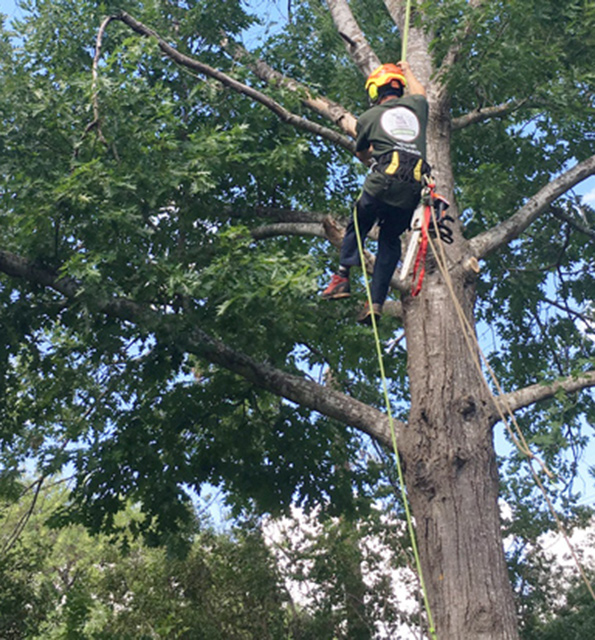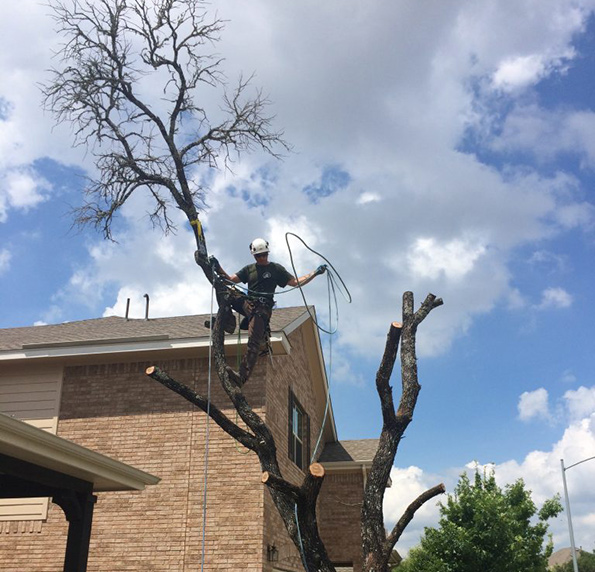 Businesses and residents in Liberty Hill, TX trust Capitol Tree Care when it comes to tree removal and stump grinding. When a tree needs to be removed due to death of the tree, becoming diseased, posing a threat, or becoming a hazard in any way, we can do it safely without the risk of damaging surrounding areas or other trees. By removing problem trees, you can also raise the value of your property and make it more aesthetically pleasing and healthier overall. And when the tree is down, we can remove the stump, ensuring a completed job.
Tree removal takes an experienced tree expert to properly carry out the removal and clean it up properly without damaging your property. Care must be taken each step of the way, and attention to the most minute details is imperative. The first step in tree removal is to assess the tree and the surrounding area. This will help determine the best course of action for removing the tree safely. Once the tree has been assessed, the next step is to remove any obstacles that could prevent the tree from being removed safely. This could include removing branches, trimming the tree, or removing other objects that are in the way. Once the tree has been cleared, the next step is to begin the removal process. This could involve using a crane to lift the tree, cutting it down with a chainsaw, or using a stump grinder to remove the roots. Once the tree has been removed, the final step is to clean up the area and dispose of the tree properly.
Heavy machinery is often a part of the process, and you don't want just anyone operating this type of equipment on your property. Call Capitol Tree Care to ensure you get tree services backed by knowledge and a Certified Arborist and Degreed Forester, James Burtchell. Burtchell is also an International Society of Arboriculture Qualified Tree Risk Assessor. No other company in Liberty Hill can offer that. When you need the best in professional, experienced arborists and tree removal service in Liberty Hill or the greater surrounding Austin area, call Capitol Tree Care at (512) 913-6833.
If you are considering planting trees on your property, let Capitol Tree Care help you plan and manage your new growth. Trees can provide shade and beauty to your property, and they can also help to improve the environment. If you're looking to do your part for the planet, planting trees is a great way to start. Contact us today and our experienced and educated team can help you choose the right trees for your property and ensure that they are planted correctly. We also offer ongoing care for your trees, so you can be sure that they will stay healthy and thrive for years to come.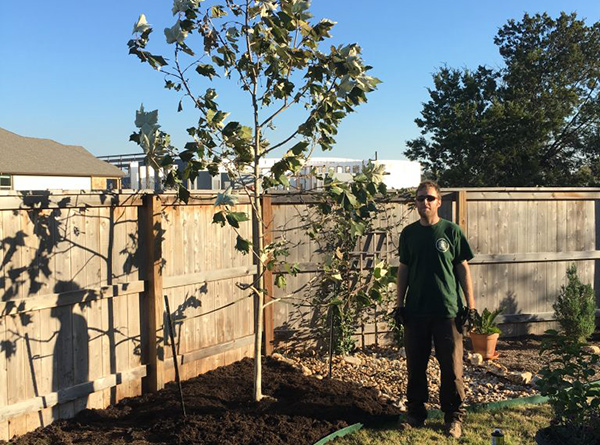 For a free quote or to learn more about our services, don't hesitate to contact us at (512) 913-6833. Give us a call today, we would love to hear from you.