Pflugerville, TX
Arborist & Tree Services
We offer our full suite of tree beautification services in Pflugerville, TX and surrounding areas. Through our science based approach, we provide the finest tree services in the area.
Pflugerville Tree Services
When looking for professional tree services, Pflugerville, TX homes and businesses trust Capitol Tree Care. Led by a Certified Arborist, we are known for our proficiency, dependability, expertise, and unsurpassed customer service. Residents and business owners alike depend on us to provide them with the professional tree services they need.
Schools, homes, businesses, city parks, and other locations around town are vastly improved by lush, healthy trees. The City of Pflugerville has more than 15 parks, 30.5 miles of trail, 16 playscapes, 500 acres of parks and 528 acres of open space all within Pflugerville's city limits. Many of the parks offer a full range of amenities from pavilions, gazebos and playgrounds, to pools and picnic areas. Trees are a vital component of these parks and recreational areas.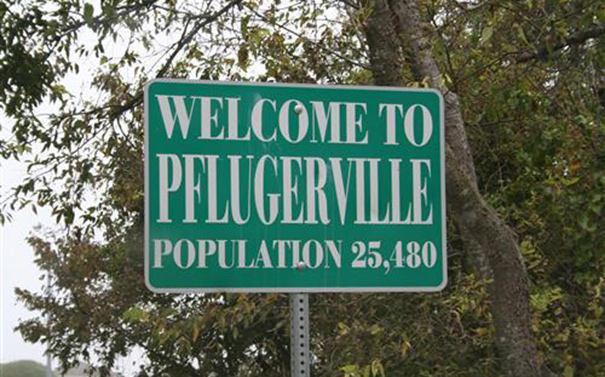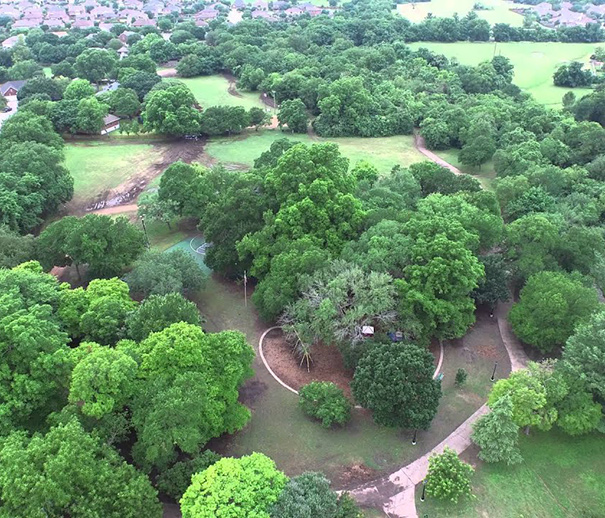 Pfluger Park, a favorite destination for local families, includes the Fallen Warrior Memorial, several trails, a grove, playground, volleyball courts, basketball court, picnic areas and large shade trees. Pfluger Park is also used for music in the park events and festivals. Lake Pflugerville Park includes a 3-mile walking/jogging trail, playground, boat launch, pavilion, and beach area. People from all over the area enjoy spending time in these local parks, and the healthy, thriving tree population is a big part of that enjoyment. To maintain a vigorous tree population, proper care and maintenance is required.
Capitol Tree Care's premium tree services includes tree trimming, tree removal, tree planting, oak wilt management, transplanting, deep root feeding, tree removal and stump grinding, fertilization, soil aeration, construction protection, and much more.
When Pflugerville folks need professional care for their valuable tree population, they call Capitol Tree Care for their premium tree services because they know we have the experience, expertise, tools, and knowledge to do the job right. If you are concerned about possible hazards or tree-related disease, we offer tree risk assessments and free quotes.
Tree Trimming
An arborist is a professional in the study, cultivation and management of trees, shrubs and vines. In other words, when it comes to trees, an arborist knows what he's doing. As an International Society of Arboriculture (ISA) Certified Arborist and Degreed Forester, James Burtchell of Capitol Tree Care knows more than most about trees and how to care for them. That's why he provides tree trimming Pflugerville can trust.
In addition to enhancing the beauty of your property, healthy trees can increase your property's innate, overall value. Capitol Tree Care recognizes this and is dedicated to providing the best care possible for your trees, so that they are a welcome addition to your landscape. Keeping your trees properly trimmed helps ensure the health and safety of your trees. For tree trimming in Pflugerville, Capitol Tree Care is the company to call.
For us, your trees are the reason we get up in the morning. We understand that healthy trees are a vital part of our environment and positively contribute to our health, happiness and wellbeing. Because we recognize their immense value, we treat each tree with the care and respect it deserves.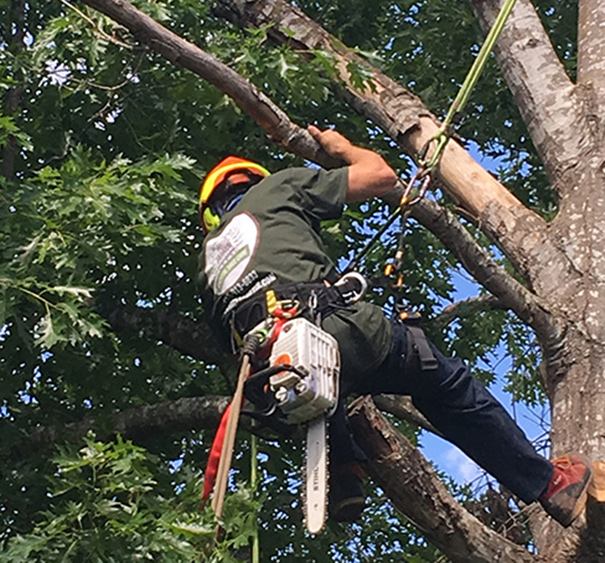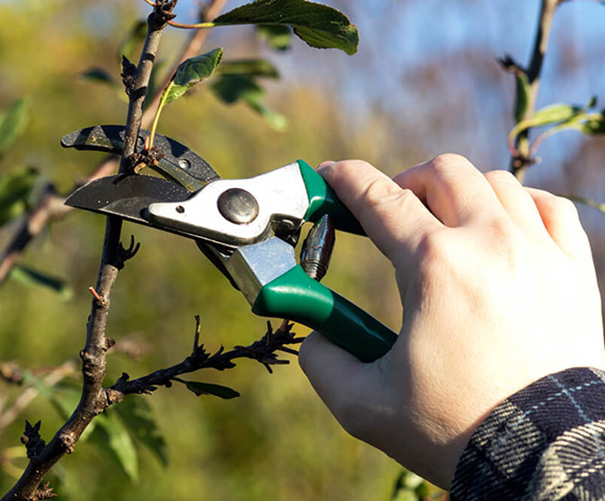 Whether you have new trees, mature trees or a mixture of both, we have the skill and experience necessary to expertly take care of all your tree care needs. We can prune trees where necessary to help control growth and preserve tree health, providing proper space between branches and removing any weakness or dead growth. This technique helps prevent storm damage and prolongs the life of your tree. We will also thin tree growth by removing stems or branches to increase the flow of air, moisture, or light through a thick canopy. This not only relieves stress from a load of snow or ice in the winter, but also helps shed more light on the ground beneath the tree, encouraging the growth of grass or other forms of ground cover.
While healthy trees can definitely add to your property's value, hazardous trees can detract from it, and pose a danger to both property and people. Those of us who own or manage trees are responsible for the safety of people and property in the vicinity of our trees. For that reason, we at Capitol Tree Care offer tree trimming in Pflugerville and surrounding areas, along with other tree care services designed to promote and preserve both the life and health of your trees.
Tree Removal and Stump Grinding
For professional tree removal, Pfugerville residents and business owners trust Capitol Tree Care to safely handle the job. Sometimes we have to make the decision to remove a tree. If a tree has died, is infested or diseased, poses a threat to other trees, or becomes a hazard to the surrounding areas, the best option for the sake of the tree and the property may be to have it cut down and removed. While removing a compromised tree for the safety of surrounding areas and properties may be the prudent choice, it may also be a sound financial choice. Removing a sickly tree can increase the value of your property by making it more appealing and healthy looking. We will even perform the tree stump removal as well.
Capitol Tree Care is led by an International Society of Arboriculture (ISA) Certified Arborist with numerous certifications and designations, such as the Texas Oak Wilt Certification and ISA Qualified Tree Risk Assessor designation. A degreed forester as well as certified arborist, owner James Burtchell leads a team of professional tree care experts that offer a full array of services designed to take care of and tend to your property's trees, including tree removal.
Tree removal requires the experience, technical skill, and proper equipment of a trained team to safely remove a dead, diseased, or dangerously positioned tree. Capitol Tree Care's team possesses these traits and more. Our licensed and insured crews have the professional training and personal protective equipment needed to maintain a safe working area during all stages of the tree removal process. Once a tree is cut down and removed, you can elect to have the stump removed as well. Stumps can be ground into hardwood mulch for use in your garden and landscaping.
If you need a tree removed, or you suspect a tree may need to be removed, we can assess the situation for you, and properly and safely remove the affected tree. When you need a professional, experienced arborist and tree removal team you can count on, please call Capitol Tree Care at (512) 913-6833.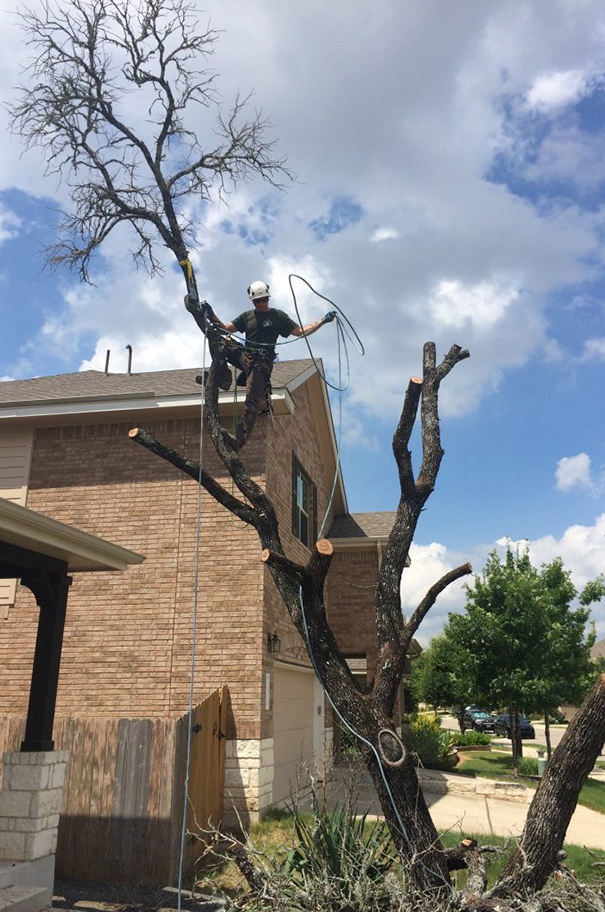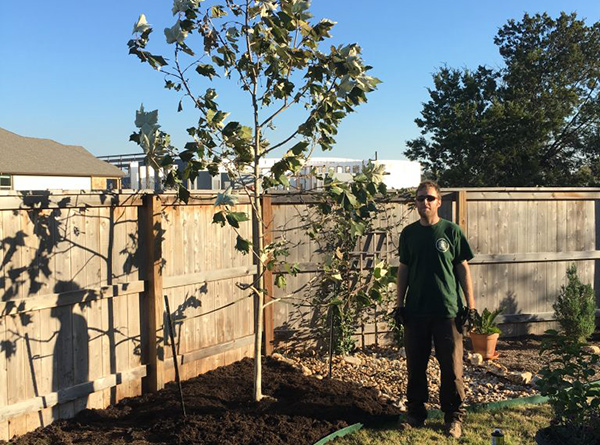 Tree Planting
Capitol Tree Care in Pflugerville is committed to ensuring the ultimate in satisfaction for customers who call on us to plant trees for them. This is an easy goal for us to achieve, because of the satisfaction we get out of planting trees in Central Texas and beautifying the natural terrain. When you call on our specialists to help you select the perfect trees for your property, you can count on being happy with your choice for many years into the future. We help you select trees that work best for your yard and complement the beauty of your neighborhood. This adds to the natural surroundings of the area and to your home's value by increasing its visual appeal. When redesigning your landscaping, we can help move or replace your current trees to fit your new plans or remove trees that have declined or become unmanageable. Reach out to Capitol Tree Care in Pflugerville for all of your tree planting needs.
Arborist Consultations
Capitol Tree Care in Pflugerville is proud to have some of the most experienced and knowledgeable arborists on our staff. This team of landscaping professionals understands the many problems that your trees may face. Climatic conditions, pests, disease, and human influence are just a few of the factors that may work together to cause damage and the ultimate demise of your trees. When you notice a problem with your tree, it is best to reach out to one of arborists immediately to determine the extent of damage and try to save the tree. Signs of decline may include bald or empty spots in the tree or dead branches. Our arborists are equipped to advise you on the best practices in tree maintenance to ensure healthy landscaping that your family will enjoy for years. Proper maintenance protects you from liability for damages and increases your curb appeal and property value. Capitol Tree Care in Pflugerville is always here to provide ultimate quality care for your trees.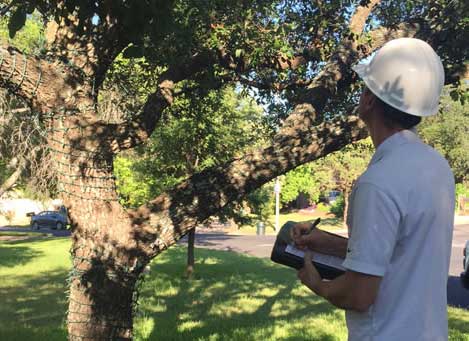 If you need a professional, experienced arborist you can count on, both now and in the years to come, please don't hesitate to give us a call at (512) 913-6833. We would love to become your preferred tree service specialists.