Expert Tree Assessments in Austin
Whether you have questions about the safety and health of your trees, or you just moved into a new neighborhood, Capitol Tree Care's Arborists can help identify the risk of tree failure and any possible issues or defects affecting the overall well being of your trees and any potential threats they pose to you and your property. Healthy, desirable, mature trees account for a significant share of your property value and curb appeal.  Identifying potential weaknesses before they become major problems can save you money and unwanted problems to mitigate against.  Our trained Arborists assess your trees and provide you with a comprehensive assessment report identifying biotic and abiotic stressors and/or defects affecting the well being of your tree(s).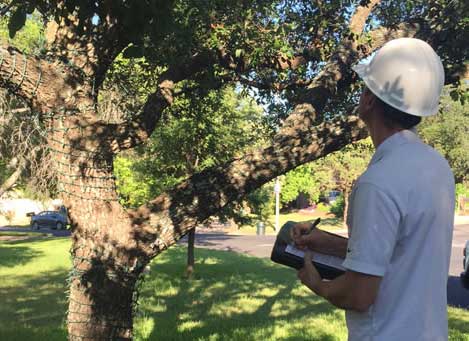 Every part of the tree is inspected, from the crown to the root system, for structural defects as well as any presence of pests and disease. Our comprehensive approach involves visually inspecting your trees from either the ground or in the canopy.  Our Arborists observe your trees for some of the following defects, physical damage, poor structure and/or site changes:
Poor branch unions
Presence of decay
Presence of disease
Poor structure
Over-extended and/or overloaded branches
Buried Root Collars
Site & Soil Grade Changes
Overall health & vigor
Previous improper pruning
Physical damage
We complete our tree risk assessments in accordance with the International Society of Arboriculture(ISA) guidelines and training. Tree risk assessments compliment the City of Austin's tree removal permit process and are legal documentation in the court of law.
REQUEST A TREE RISK ASSESSMENT
Call us today!